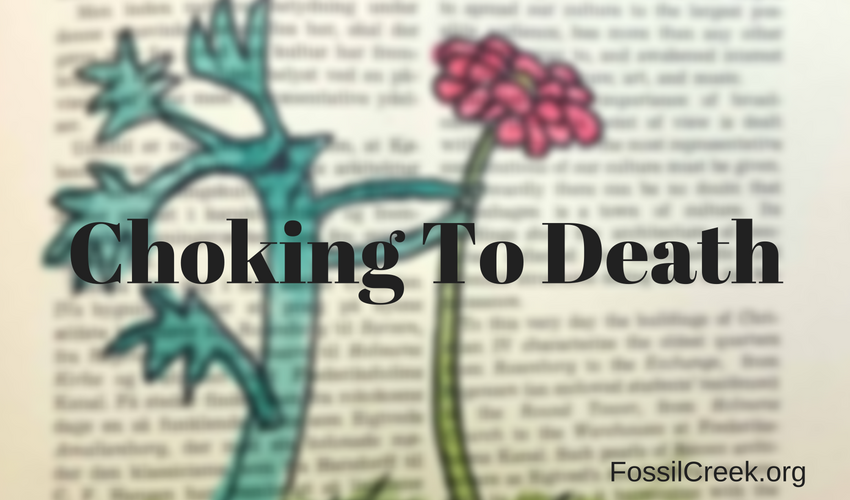 Luke 8:14 "And that which fell among thorns are they, which, when they have heard, go forth, and are choked with cares and riches and pleasures of this life, and bring no fruit to perfection."
Most people agree that nausea is among the worst feelings in the world. It's one thing to be nauseated because we've got a bug of some sort, but it's quite another to be nauseated because a person has been partying and getting drunk. Listen to Dr. Luke.
Luke 21:34 "And take heed to yourselves, lest at any time your hearts be overcharged with surfeiting, and drunkenness, and cares of this life, and so that day come upon you unawares."
Surfeiting is a word describing the nausea felt after drinking alcohol. This is the only place in the New Testament where we find this word. We're warned to be careful so we don't allow our hearts to be overcharged with this behavior.
Some translations use the word "dissipation." That means intemperance, or indulging in sensual behavior, or wasteful consumption.
Have you ever seen video of fraternity initiations where new pledges are encouraged to consume enormous amounts of alcohol? In spite of vomiting, some of these kids die of alcohol poisoning. They've given into the sins of the flesh. Their sin has a high price.
We're warned to not allow our hearts to be overtaken, but we're equally warned by the term "overcharged" to not allow ourselves to let our hearts be deceived. Like the young fraternity pledge who thinks his self-indulgence will not kill him, we're all able to think the affects of the world will not kill our spiritual service to God. It's a horrible miscalculation when God's people fool themselves with worldliness.
We can choke to death. And that's the warning Jesus gives when he talks of the seed of the gospel falling among thorns and being choked by the world.
Even worst than nausea is the inability to catch your breath, choking!
Literal choking can happen in one of two ways: internal or external.
That is, we can ingest something that prevents us from being able to breath. Maybe we take in so much of something that we're unable to breath. Or maybe something "goes down the wrong way" as we say and we start choking.
Or, we can be crushed by something around our throat or our chest so that we're prevented from breathing. We're strangled or crushed by something that prohibits us from breathing properly.
In the parable Jesus refers to external choking because He's talking about how a seed will sprout, but the thorns will literally choke the seedling and prevent its growth. External choking.
But in Luke 21:34 the choking can be internal, too. And after all, choking is choking. If it's not remedied, it results in death; spiritual death, in the case of these verses.
At first glance, we might conclude that when Jesus talks about that which fell among thorns we're to believe that these external circumstances – the thorns – are beyond a person's control. Jesus tells us that the soil is the heart of a man. Men can control their heart, their soil.
Luke 8:11-15 "Now the parable is this: The seed is the word of God. Those by the way side are they that hear; then cometh the devil, and taketh away the word out of their hearts, lest they should believe and be saved. They on the rock are they, which, when they hear, receive the word with joy; and these have no root, which for a while believe, and in time of temptation fall away. And that which fell among thorns are they, which, when they have heard, go forth, and are choked with cares and riches and pleasures of this life, and bring no fruit to perfection. But that on the good ground are they, which in an honest and good heart, having heard the word, keep it, and bring forth fruit with patience."
So are we to believe that we have no control over our own heart?
Matthew 6:21 "For where your treasure is, there will your heart be also."
Matthew 12:35 "A good man out of the good treasure of the heart bringeth forth good things: and an evil man out of the evil treasure bringeth forth evil things."
Matthew 15:19 "For out of the heart proceed evil thoughts, murders, adulteries, fornications, thefts, false witness, blasphemies."
Those who crucified Christ had the ability to change their heart. Earlier they cried for His blood. Now they're crying out to discover what they must do to be saved.
Acts 2:37 "Now when they heard this, they were pricked in their heart, and said unto Peter and to the rest of the apostles, Men and brethren, what shall we do?"
We have the ability to control our heart. That means we can control our desires, passions and priorities. We control the choices we make.
While circumstances affect all of us, our response to those circumstances is completely up to us. Consider Job's reaction to his challenges. Consider Abraham's obedience to God's demand that he give up his only son. Consider Christ's response to God's desire that He sacrifice Himself. In every case, choices were made. In every case, desires were determined by the heart. Every man controls his own choices.
2 Corinthians 9:7 "Every man according as he purposeth in his heart, so let him give; not grudgingly, or of necessity: for God loveth a cheerful giver."
Galatians 6:5 "For every man shall bear his own burden."
James 1:14 "But every man is tempted, when he is drawn away of his own lust, and enticed."
Accountability equals being answerable. It means being responsible to someone, or being responsible for doing something. Spiritually, it means answering to God for our behavior toward Him.
The first part of Romans 10:10 declares, "For with the heart man believeth unto righteousness…"
Romans 14:12 "So then every one of us shall give account of himself to God."
2 Corinthians 5:10 "For we must all appear before the judgment seat of Christ; that every one may receive the things done in his body, according to that he hath done, whether it be good or bad."
We can't blame anybody else or anything else for our refusal to obey the gospel or our inability to bear fruit for the Lord. We can't hide behind our circumstances or others when it comes to our Christian duty. We have to behave like God's people or suffer the consequences.
There are countless obstacles, but I'd like to focus on the thorns of worldliness because they may present one of the greatest enemies to Christians.
When we think of worldliness we might think of drinking, being immoral and partying. We might think of gambling, dancing and all kinds of things, but God's Word has a different definition.
1 John 2:15-17 "Love not the world, neither the things that are in the world. If any man love the world, the love of the Father is not in him. For all that is in the world, the lust of the flesh, and the lust of the eyes, and the pride of life, is not of the Father, but is of the world. And the world passeth away, and the lust thereof: but he that doeth the will of God abideth for ever."
The world here isn't God's creation. Nor is it the world that God so loved that He sent Jesus as a sacrifice. "World" here are the thorns of the world – the lusts, passions and activities of people who want to do what they want to do. There's no sacrifice happening here. There is only indulgence. There is no discipline, only a child-like quest to satisfy our own desires. There's little long-term consideration, but mainly there is the quest to fulfill desires right now.
We're told of the three sins that exist:
1. lust of the flesh or sensuality
2. lust of the eyes or materialism and
3. pride of life or pomposity (showing off, if you will).
All sins fit into one or more of these categories. These represent the thorns of worldliness capable of choking the Word and making us unfruitful.
The lust of the flesh involves a fleshly way of thinking and acting. "Flesh" involves more than the elements that make up the human body. It is a way of thinking and living that is contrary to the way of God. It is contrasted with spiritual living in Romans 8 and Galatians 5. These chapters suggest that the word "flesh" includes the mind of the person and his reasoning abilities.
The word "lust" (desire) can be for things good or bad. God has given to man certain desires and these are all good within themselves. We have the desire for food, for drink, for sleep, for sex. There is nothing inherently wrong with any of these desires. But they can be directed in the wrong channels and become sinful. While the desire for food is natural and good, gluttony is sinful. While the desire to quench thirst is proper, drunkenness is a sin. Sleep is a normal need, but "a little sleep, a little slumber, a little folding of the hands to rest -and your poverty will come in like a vagabond" (Prov. 6:10-11). Laziness is a sin. The fulfillment of sexual desires within marriage is of God and is, therefore, holy. But sex taken outside the bounds of a husband and wife is fornication and is sinful. When we have desires for what is forbidden, we are headed toward "love of the world."
The lust of the eyes has to do with pleasures that gratify the sight and the mind in such a way to lead one away from God. It's found in people who want everything they see. It is the attitude that believes that happiness can be found in things which money can buy, of what the life can experience and what the eye can see. We must remember that the things which are seen are temporal (2 Cor. 4:18). This is what worldliness is: emphasis on that which is temporal.
The boastful pride of life is the spirit that attempts to show people how important we are. This is why we buy houses, cars, clothing, appliances, and other luxuries which we cannot afford. We want to impress people. We want to boast about our own greatness. The "buy now, pay later" advertising gets millions of people to buy things beyond their means. Why? To impress people with our material possessions. That is worldliness.
We're capable of choking on the very thing we feed on. That's a problem in the lives of too many Christians. They feed on the pleasures of the world and ultimately, they choke on them.
We're capable of allowing things to crush out the Word and strangle us. We wrap ourselves too tightly with things that distract us from the Christian walk. They sometimes choke us.
Some people busy themselves with entertainment, pleasure, fun and excitement. They commit treason against their own heart. That is, they betray their heart's allegiance to God by devoting too much of themselves to things that are worldly. Brethren, worldliness doesn't have to be immoral. Acts of worldliness might be things innocent enough if kept in balance – if put in proper perspective with service to God.
Luke's account gives us 3 things that make up this worldliness: cares, riches and pleasures.
The cares or worries of this life deal with our anxieties over material things such as our food, clothing, or shelter. They can also deal with our cares about life's experiences – what fun are we going to have, what entertaining things are we going to do? In the Sermon on the Mount Jesus, with His masterful word pictures, teaches us not to worry about our physical life.
Matthew 6:31-33 "Therefore take no thought, saying, What shall we eat? or, What shall we drink? or, Wherewithal shall we be clothed? (For after all these things do the Gentiles seek:) for your heavenly Father knoweth that ye have need of all these things. But seek ye first the kingdom of God, and his righteousness; and all these things shall be added unto you."
Anxiety about these physical needs or desires are indicative of little faith according to Matthew 6:30 "Wherefore, if God so clothe the grass of the field, which to day is, and to morrow is cast into the oven, shall he not much more clothe you, O ye of little faith?"
Instead of worry, our lives must be characterized by prayer (Phil. 4:6) and action (Matt. 6:33 – "seek first His kingdom and His righteousness"). Anxiety about these things can choke out the word and that is worldliness.
The riches of this life are another source of worldliness.
1 Timothy 6:9-12 "But they that will be rich fall into temptation and a snare, and into many foolish and hurtful lusts, which drown men in destruction and perdition. For the love of money is the root of all evil: which while some coveted after, they have erred from the faith, and pierced themselves through with many sorrows. But thou, O man of God, flee these things; and follow after righteousness, godliness, faith, love, patience, meekness. Fight the good fight of faith, lay hold on eternal life, whereunto thou art also called, and hast professed a good profession before many witnesses."
Two metaphors are used by Paul. One of a trapped animal unable to free himself and one of a drowning swimmer. That's how the quest for riches affect us. The condemnation isn't for unlawful gain – the condemnation is the desire to be rich in what this world has to offer. It's a foregone conclusion that gaining wealth dishonestly is sinful. We can desire wealth through completely honest means and still be worldly because we're permitted that desire to overwhelm our commitment to the Lord through the Church.
At the conclusion of the story of the rich man who decided he needed bigger barns for all his worldly goods, Christ pointed out that his soul would be required of him. "Then whose shall these thing fall to," was the question Christ asked. Who will get it when you die? Then He concludes in Luke 12:21 "So is he that layeth up treasure for himself, and is not rich toward God."
The pleasures of this life also constitute worldliness. These would be any pleasures that would draw us away from the godly life dictated by the Word.
Worldliness falls into 2 categories. There are things that are wrong within themselves because God has declared them to be wrong. Anything that falls within the description of the works of the flesh in Galatians 5:19-21 is sinful because God declares that it is. This includes sexual sins, sins of the disposition, sins of action. Peter speaks of this kind of worldliness when he talks about "a course of sensuality, lusts, drunkenness, carousals, drinking parties and abominable idolatries" (1 Pet. 4:3). Paul is emphatic in ordering us to "flee fornication" (1 Cor. 6:18). Anything that falls into this category is sinful – it is of this world.
Many movies are sinful because of these passages. Parents, do you exercise control over what your children see? We've got too many kids in the Lord's Church going to movies and feeding themselves on the filth of the world. The Internet and television are too often unchecked in the homes of God's people. These worldly temptations aren't conducive to a godly, spiritual life. They constitute worldliness and they'll choke the Word. Parents, I encourage you to get the televisions and computers out of your kid's rooms. Become educated on what your kids are watching and what they're doing. Don't be naive. Don't let worldliness grab your children. Be the example before them that you ought to be. Live what you preach. Be responsible for the soil of your children's hearts. Guard their hearts, as you must guard your own. Teach them to guard their own hearts.
There is a worldliness that is very destructive to Christians. It has to do with things that are not wrong within themselves, but constitute worldliness by their use. Paul said that Demas loved this present world. I rather doubt that Demas got involved in immorality or drunkenness. My guess is that Demas was probably afraid that he would die if he stayed with Paul in Rome. He loved this present world and was not ready to leave it. We all have to be very careful so we don't become worldly in this way – where we love this life more than serving God.
These are the people who have so many interests in life that the things of God are choked out. People become too busy to pray, too busy to study, too busy to visit the sick, too busy to be involved in responsibilities at home and too busy to come to all the services. That's worldliness!
Some people charge God with not giving them enough time to do His Will. "I don't have enough time" is something we hear quite often. God gives us all the same number of hours in a day. He gives us time to do everything to please Him. It's amazing that people still have time for sports, for TV, for entertainment, for higher education or for anything else they want to do. The truth is that we find time to do what we want to do.
When we get so involved in the desire to make money that we have no time for Jesus, that's worldliness! When we're so involved in entertaining ourselves that we neglect our Christian obligations, that's worldliness! When we're busy jumping from one exciting thing to another while the Church takes a back seat, that's worldliness! These are childish behaviors. These are behaviors that lack the discipline necessary to live successfully for God.
Moral worldliness. That's what happens when we allow other things – things not sinful within themselves – to choke out our spiritual life. These things become the most important things in our life. Here's the truth of the matter. You can get by without sports, entertainment, movies, and a host of other things that consume people. You can't get by without the Lord and the Church that He died for.
Colossians 3:1, 2 "If ye then be risen with Christ, seek those things which are above, where Christ sitteth on the right hand of God. Set your affection on things above, not on things on the earth."
Jesus tells us that worldliness will "weight us down" and "choke" us. These processes seldom take place immediately. Usually they gradually and slowly grow in our lives. Thorns begin to grow as the seed grows. The thorns grow a little each day.
Worldliness creeps up on us, ultimately choking us.
The Christian gradually accepts and then adopts the ways of the world. Matthew 24:38, 39 "For as in the days that were before the flood they were eating and drinking, marrying and giving in marriage, until the day that Noah entered into the ark, And knew not until the flood came, and took them all away; so shall also the coming of the Son of man be."
The people of Noah's day were going on with their regular lives totally oblivious to the fact that the flood was coming. People come to feel comfortable in their worldly way of life. They come to look upon even sinful activities as being the normal way of life. We accept our "respectable worldliness" as the way that most decent people live. We fail to see the choking effect of this kind of worldliness. Worldliness is deceptive.
It's important that we understand worldliness will destroy us! Choking will kill us.
James 4:4 "Ye adulterers and adulteresses, know ye not that the friendship of the world is enmity with God? whosoever therefore will be a friend of the world is the enemy of God."
The Lord is emphatic. Worldliness places us in hostility to God. It is destructive. We have already seen John's statement that "if any one loves the world, the love of the Father is not in him" (1 John 2:15). Our love of the world will result in our being destroyed along with the world.
Paul shows that those who are guilty of the works of the flesh will not inherit the kingdom of God.
Galatians 5:19-21 "Now the works of the flesh are manifest, which are these; Adultery, fornication, uncleanness, lasciviousness, Idolatry, witchcraft, hatred, variance, emulations, wrath, strife, seditions, heresies, Envyings, murders, drunkenness, revellings, and such like: of the which I tell you before, as I have also told you in time past, that they which do such things shall not inherit the kingdom of God."
Philippians 3:18, 19 "(For many walk, of whom I have told you often, and now tell you even weeping, that they are the enemies of the cross of Christ: Whose end is destruction, whose God is their belly, and whose glory is in their shame, who mind earthly things.)"
These are worldly people because they set their minds on earthly things. Their end is definite: it is destruction! Worldliness will lead a person to Hell. People who are traveling the pathway of worldliness are traveling toward eternal destruction.
2 Corinthians 6:14-18 "Be ye not unequally yoked together with unbelievers: for what fellowship hath righteousness with unrighteousness? and what communion hath light with darkness? And what concord hath Christ with Belial? or what part hath he that believeth with an infidel? And what agreement hath the temple of God with idols? for ye are the temple of the living God; as God hath said, I will dwell in them, and walk in them; and I will be their God, and they shall be my people. Wherefore come out from among them, and be ye separate, saith the Lord, and touch not the unclean thing; and I will receive you, And will be a Father unto you, and ye shall be my sons and daughters, saith the Lord Almighty."
God's people have no business making alliances with non-Christians. That would include marriage to a non-Christian, but Christians should take care so as not to marry a nominal Christian who might lead them toward worldliness. Our closest friends can't be those of the world. Our closest friends ought to be God's people – people who have heaven as their goal.
Our dreams and behaviors ought to be so distinctly different from the world that we find ourselves not having enough in common with them to run closely with them. As temples of God we have nothing in common with pagans. At least we shouldn't unless we've become so worldly that we find ourselves having more in common with unbelievers than believers. And that's a terrible place for a Christian.
Christians need an uneasiness in being around people of the world. We should be uncomfortable with their behavior, their language, their aspirations, their desires and their lifestyle. Unfortunately, it's not always so. We see Christians who are sometimes MORE comfortable around unbelievers. That tells us they're worldly and attracted to the world more than they're attracted to God. They're not guarding their hearts. Rather, they're allowing their hearts to envy the lifestyle of the world – of sinners. Their secret (and sometimes not so secret) desire is to be like the world.
Proverbs 23:17 "Let not thine heart envy sinners: but be thou in the fear of the LORD all the day long."
The Gospel is the seed. It's the same for all people. Our heart is the soil. Its condition is dependent on how well we've prepared it, how well we tend to it, and how well we protect it.
If you were going to plant seed of any type, you'd first prepare the soil. Imagine tossing seed in the middle of a briar patch full of thorns and weeds. What hope would we give it? How senseless would that be? We often do that with our own soul. We take God's Word and attempt to mix it in with all the stuff of this world that we so dearly love. We want our life to center around pleasure, fun, entertainment and getting ahead – but we want to kinda, sorta live the Christian life, too. We want our worldliness and we want our Christianity, too. IMPOSSIBLE. We can't expect that to succeed any more than we can expect seedlings in a literal garden to flourish with weeds and thorns that would choke it.
There are 2 contrasting ideas or questions:
a) What will the world do to the Word?
b) What will the Word do to your cares of the world?
In caring for the soil of our heart we have to deal with both questions. We must decide.
We know the answer to the first question is found in the theme of our lesson – the world will CHOKE the Word. It will cause the Word to be unfruitful. It will cause the Word to die in our heart where we serve it no more.
What will the Word do to our cares of the world? The Word will cause us to put the world in a position of lesser importance. It will cause us to see the world as temporary. It will prevent us from serving the world and our own desires. It will inspire us to seek heaven and God's Will. Knowledge of the gospel coupled with a commitment to live by it is crucial.
What are you sacrificing for heaven? What worldly pursuits, though moral or decent, are you giving up so you can be a stronger Christian? What is the priority of your life?
Those temporal things that consume you represent the thorns in your life. In a literal garden we pull up the thorns and weeds that might choke the seed we've planted because we know those things have NO VALUE. The seed we've planted is far more valuable than the briars that try to grow up around it. So, rightfully (and wisely) we get rid of the things that have no value. Spiritually, it's no different.
It's interesting that the valuable seed requires diligence. That's why our Christian walk is described as work. Paul talked to the Thessalonians about their work of faith. It is a work to maintain faithfulness to the gospel. Thorns require no work. They just grow.
Peter tells us 1 Peter chapter 1 to give diligence to make our calling and election sure by adding things to our life. Faith, virtue, knowledge, temperance, patience, godliness, brotherly kindness and charity are the things we all have to work to add into our lives. These are opposite of indulgence and doing what we want. Why do some Christians fall? Because they refuse the admonition of 1 Peter 1:5-11. It's not surprising because Peter warns us that those who don't add these things are blind, can't see long-term and have forgotten they were purged from their sins.
Crave a clear, clean spot where the seed can flourish. Work to prepare the soil of your heart. How much more attractive and sensible is it to have an area where we've turned over the soil, pulled out all the weeds and briars, and prepared the soil as best we can? Think of your life in the same way. Clear away the things that get in your way of improved spiritual service.
Brethren, we see worldliness creep into our lives whenever we devote ourselves MORE to the pursuits of our own desires than we do to serving the Lord. Sometimes we're fostering things of NO VALUE instead of fostering the seed of the Gospel.
Today, if pleasure, entertainment, money, houses, cars, toys or other pursuits dominate your thoughts, time and energy then you're deceived by the cares, pleasures and riches of the world. They're choking the Word in your life. You're serving things of no value and giving up your soul in the process.
Matthew 16:26 "For what is a man profited, if he shall gain the whole world, and lose his own soul? or what shall a man give in exchange for his soul?"
If we refuse to make time to clear away the clutter in our spiritual life then we'll never be the person God wants us to be. The constant going back and forth in service to self, then to God will not result in a fruitful life. We'll be giving up our soul in exchange for something far less valuable.
For some, it's the need to grow up and become more mature in Christ, in their faith. It's time to become more sober minded in walking with Christ. Some don't take their Christian life seriously enough.
Ephesians 4:14-16 "That we henceforth be no more children, tossed to and fro, and carried about with every wind of doctrine, by the sleight of men, and cunning craftiness, whereby they lie in wait to deceive; But speaking the truth in love, may grow up into him in all things, which is the head, even Christ: From whom the whole body fitly joined together and compacted by that which every joint supplieth, according to the effectual working in the measure of every part, maketh increase of the body unto the edifying of itself in love."
Paul points out two kinds of people who behave as children. There are those who are taken with whatever is right before their eyes, the most recent novelty. Take any small child through the toy aisle of Wal-Mart and you'll soon find out they want every toy they see. Some Christians behave the same way. They follow whatever is right in front of their eyes. Long-term is never a consideration. Right now is all they know. They're like children who can't behave seriously.
The other category of childish people is those who are deceived. They allow other people to influence them away from the Truth. They're not dedicated enough to the Truth to withstand the deception of others. Predators of children know exactly how to entice kids. They deceive them with all sorts of tricks. Kids often are unaware of the real dangers. Spiritually, we have to be mature enough to avoid deceptions that would cause us to abandon the Faith.
Our growth hinges on our stedfastness to the Truth of the Gospel. It hinges on our willingness to clear out those things that would get in our way. It hinges on putting first things first. It hinges on our willingness to sacrifice things in this life so we can have heaven someday.
Choke or grow. The seed of the gospel will do one of these two things in our life. Don't work at being a Christian and choke. Or work at being a Christian and grow.
Tend the garden of your heart. Be careful what you permit to enter your life. Be careful of the things that might overtake your spiritual life. Don't allow thorns to ruin your hope of heaven.